"This experience was one that I will never forget. The support while in Costa Rica was magnificent"
Melanie Torres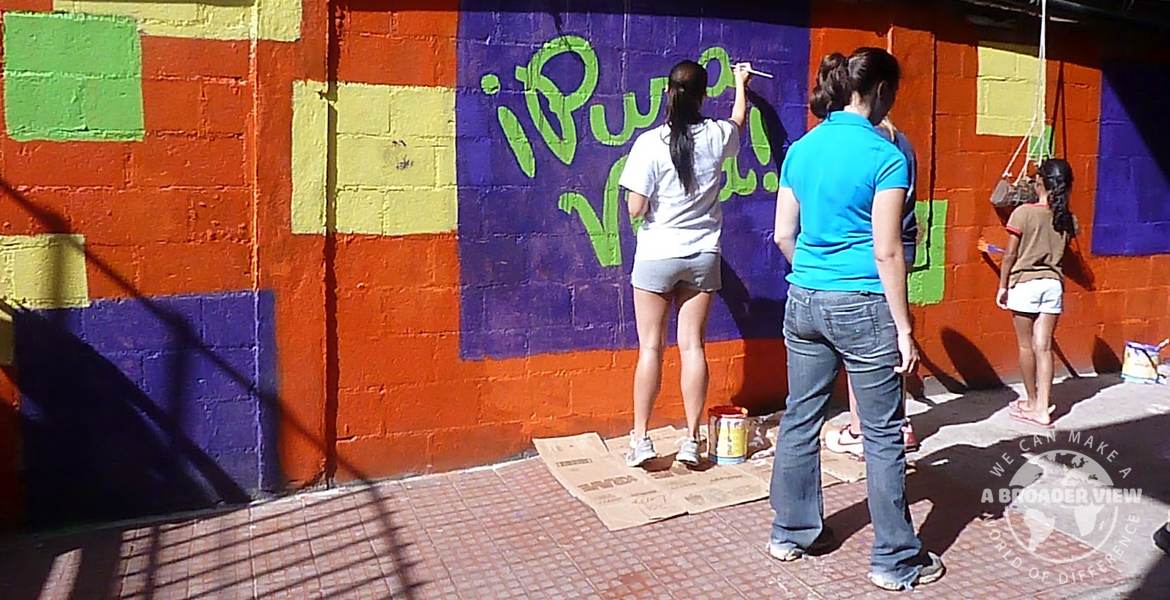 The program provides services for children and adolescents who have little access to social services, and come from poor families living in and around San Jose. Very much like a community day care, or boys and girls center in the USA, this is a safe haven for many families. Children are provided a place to come and get basic education, some food, recreational activities and love and attention from the caring staff.
Volunteers should be flexible, caring, be a self-starter and have strong Spanish skills. Volunteers are asked to wear long pants and closed toe shoes at the orphanage. Language Immersion lessons can be combined with this volunteer project.
Important: Arrival flights must be before 10pm (no exceptions) to San Jose and departure flight should be after 1pm.
Volunteer Opportunities: Children Support Program
Overview
Project length: From 1 weeks to 6 weeks
Arrival Airport: San Jose (SJO) Juan Santamaría International Airport.
Work Schedule: 8:30 to 15:00PM daily.
Requirements: Basic Spanish, independent bus ride to/from project site.
Age Limits: Minimum 18 years or older for solo travelers.
Minimum Age: 12 to 17 years if traveling with parents.
Airlines: American, United, Delta, US Airways, Copa, Taca, Avianca, Spirit Airways.
Vaccinations: Routine Vac, Hep-A and Typhoid wwwnc.cdc.gov/
Inclusions
Accommodation: Host Families.
Meals: Breakfast, lunch and dinner are included.
Arrival: Airport (SJO) meet and greet by ABV Staff and Airport transfer on arrival to San Jose
Orientation: Orientation upon arrival.
Support: Full time in-country ABV Coordinator. 24 hour emergency contact number.
Departure: Transfer back to the airport at the end of the program.
Not included:
Flights. Entry Visa. Departure taxes. Vaccinations. Local Transportation. Travel & Health Insurance. Laundry and Internet. Any extra activities and excursions or tours not described on the planned itinerary.
Central America / US$
Weeks
1
2
3
4
5
6
Costa Rica
910
1025
1240
1355
1470
1580
The volunteer prices and the immersion prices are not combined, you choose from one or the other price.
Central America / US$
Weeks
1
2
3
4
Costa Rica - Spanish Immersion
1070
1375
1685
1995
Any extra week of "accommodation and meals" will be US$150/week after week 4 until week 6, more Spanish lessons can be paid locally to the coordinator.
A Broader View Volunteer (ABV)  allows every traveler to choose their own program start date. This means you can arrive on any flight, any day of the week. Since ABV program fees are 100% tax deductible* we encourage you to fund raise. ABV offers advice and assistance with flight planning, affordable travel insurance, as well as procuring a visa, if necessary. Our ABV staff is available to any your questions. Contact us by email, through the on-line chat feature on our website or call us toll free at 866-423-3258.
WHAT DO MY FEES PAY FOR?
Volunteer Registration Fee – ongoing support from ABV staff, program marketing costs, information pack, administration costs, ABV donation Fund, travel costs to inspect programs and communication costs with volunteers.
Volunteer Program Fee – ABV donation fund, airport pick-up, orientation, program supervision, accommodation and meals during volunteer program period, in-country 24/7 volunteer support and in-country administration costs. As a US Non-Profit Charity Organization all your fees are tax deductible and you can fundraise from our website to pay for the fees.