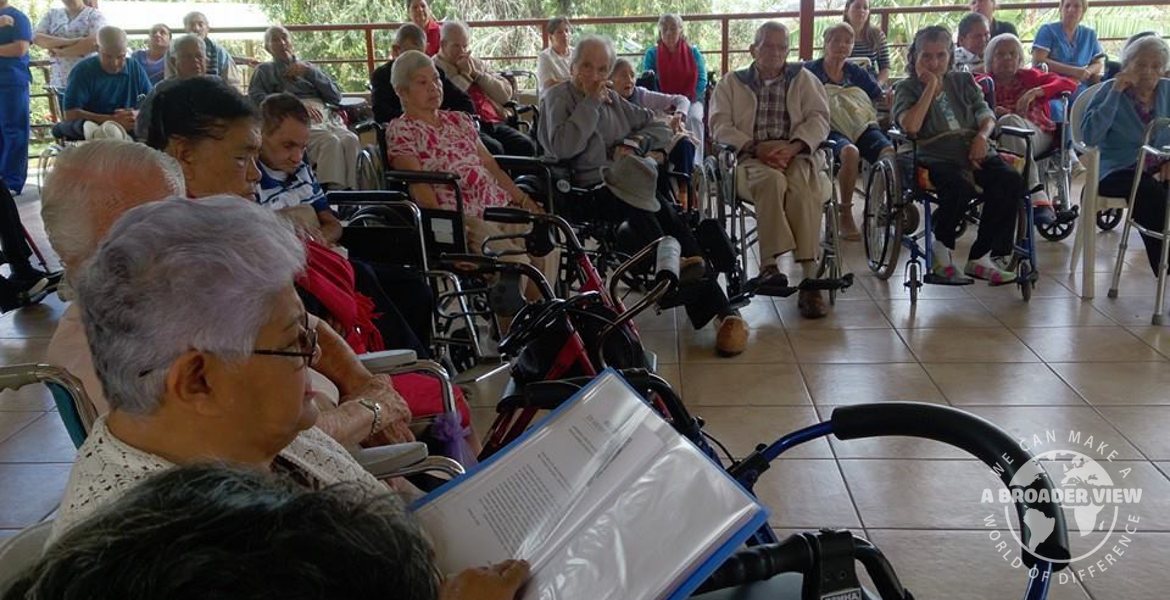 As in most societies around the world, caring for the elderly is left to social welfare institutions when their own families cannot care for them.  Many of the elderly care centers support those with disabilities, those who have been abandoned or have mental illness such as Alzheimer's.
Volunteer work varies from day to day but focuses on personal interactions and stimulation with the residents, feeding, therapy needs, as well as light maintenance jobs like sweeping, cleaning. 
The ages of the residents range between 67 – 111 years old!   The home seeks to distribute food, clothing and medicine to those in need whilst trying to keep an adequate standard of living for the elderly. It is necessary for staff to keep fully updated in regards to all safety conditions applicable to the elderly residents as there are a wide range of health conditions and each individual may have different requirements.
The ways in which you can help like volunteer are:
Meals times – most residents will need to be hand-fed.
Specialized therapeutic care. Occupational therapy.
Recreation and culture needs: Spiritual growth. Reading books, talking together
Nursing care available 24/7.
Volunteer Abroad: Senior Care Center
Overview
Project length: From 1 week to 6 weeks.
Arrival Airport: San Jose (SJO) Juan Santamaría International Airport.
Work Schedule: From Monday to Friday. Minimum 6 hours per day.
Requirements: Basic Spanish, independent bus ride to/from project site. US$50 donation.
Age Limits: 18 years or older for solo travelers.
Airlines: American, United, Delta, US Airways, Copa, Taca, Avianca, Spirit Airways.
Vaccinations: Routine Vac, Hep-A and Typhoid wwwnc.cdc.gov/
Inclusions
Accommodation: Host Families.
Meals: Breakfast, lunch and dinner are included.
Arrival: Airport (SJO) meet and greet by ABV Staff and Airport transfer on arrival to San Jose
Orientation: Orientation upon arrival.
Support: Full time in-country ABV Coordinator.  24/7 emergency contact number.
Departure: Transfer back to the airport at the end of the program.
Not included:
Flights. Entry Visa. Departure taxes. Vaccinations. Local Transportation. Travel & Health Insurance (US$53 approx). Internet & Laundry optional: only available in some host families: US$10 a week). Any extra activities and excursions or tours not described on the planned itinerary.
Central America / US$
Weeks
1
2
3
4
5
6
Costa Rica
910
1025
1240
1355
1470
1580
The volunteer prices and the immersion prices are not combined, you choose from one or the other price.
Central America / US$
Weeks
1
2
3
4
Costa Rica - Spanish Immersion
1070
1375
1685
1995
Any extra week of "accommodation and meals" will be US$150/week after week 4 until week 6, more Spanish lessons can be paid locally to the coordinator.
A Broader View Volunteer (ABV)  allows every traveler to choose their own program start date. This means you can arrive on any flight, any day of the week. Since ABV program fees are 100% tax deductible* we encourage you to fund raise. ABV offers advice and assistance with flight planning, affordable travel insurance, as well as procuring a visa, if necessary. Our ABV staff is available to any your questions. Contact us by email, through the on-line chat feature on our website or call us toll free at 866-423-3258.
WHAT DO MY FEES PAY FOR?
Volunteer Registration Fee – ongoing support from ABV staff, program marketing costs, information pack, administration costs, ABV donation Fund, travel costs to inspect programs and communication costs with volunteers.
Volunteer Program Fee – ABV donation fund, airport pick-up, orientation, program supervision, accommodation and meals during volunteer program period, in-country 24/7 volunteer support and in-country administration costs. As a US Non-Profit Charity Organization all your fees are tax deductible and you can fundraise from our website to pay for the fees.