Volunteers Costa Rica are needed and welcome at this transitional shelter for children with chronic illness. The care center can accommodate 25 children, most of whom suffer from burns, healing from a transplant, awaiting surgery or are being treated for chronic disease. Patients from the National Children's hospital are referred here to avoid prolonged hospitalization, and also provide housing for those coming from rural areas.
The place has large green areas and provides a serene environment for sick children.  Each family is provided support through nursing, nutritionists, psychological, pharmacy according to the clinical picture of the child. This help includes food, clothing, literacy, recreation, training and emotional support to the patients and their families.
Pre-medical volunteers have the opportunity to assist the nursing staff with non-evasive procedures, shadow during examinations, and learn about treating long term chronic illnesses in children. Your role will vary providing care, feeding, interaction with the children, as well collaborating with the staff and teachers on their daily activities. This can be a challenging program but all help is needed.
If you are a pre-medical, pre-nursing or public health major seriously considering a health career, this is a perfect project to gain first hand knowledge of medical standards in developing communities in Costa Rica. This program can be combined with language immersion lessons.
Overview
Project length: From 1 week to 6 weeks.
Arrival Airport: San Jose (SJO) Juan Santamaría International Airport.
Work Schedule: From Monday to Friday. Minimum 6 hours per day.
Requirements: Basic Spanish, independent bus ride to/from project site. US$50 donation.
Age Limits: 18 years or older for solo travelers.
Airlines: American, United, Delta, US Airways, Copa, Taca, Avianca, Spirit Airways.
Vaccinations: Routine Vac, Hep-A and Typhoid wwwnc.cdc.gov/
Program Closed: December 12th to January 9th
Country Info
Costa Rica Introduction
Are you ready to help people in need, immerse yourself in the sights, sounds and culture of a new country and have the experience of a lifetime? With poverty, disease and a lack of skilled providers putting a strain on important services such as health and childcare in developing countries across the globe, there are many corners of the world which rely on the help of volunteer travelers like yourself.
Volunteer in Costa Rica with A Broader View Volunteers a top rated non-profit charity organization, which works tirelessly to support our wonderful volunteers and serve the local communities where our volunteer programs are located. Placements in Costa Rica are based in the  cities of San Jose, Escazu, Pacific & Caribbean areas..  Program placements are tailored to the volunteers different interests and skill sets, but still allow volunteers time to explore the Central America local culture and activities during their free time.
The type of programs in Costa Rica vary widely, offering everything from education to health care. Volunteers can choose between 19 program opportunities in San Jose, Escazu, Pacific & Caribbean areas. International volunteer help is not only appreciated by the local community, it is severely needed by the millions of Costa Ricans living below the poverty line.  With thousands of children living and working on the streets, as is so often the case in developing countries like Costa Rica, our volunteer programs are designed to support the needs of local teens and children in desperate need of assistance.
Many of our volunteer abroad programs cater to underprivileged women and children's care, education and health requirements. Our extensive range of social programs in San Jose, Escazu, Pacific & Caribbean areas, Costa Rica programs include: Pre Medical, Pre nurses, Pre Dental, sea turtles, sloth/monkey sanctuary, Elderly care, woman support, internships, teaching in primary and secondary schools and volunteering in orphanages and day care centers and many more programs. To help you settle into your placement, we also provide the opportunity to combine all of our programs with Spanish Immersion Lessons during your time in Costa Rica.
Volunteering in Costa Rica is an incredibly rewarding experience.  We welcome volunteers of all ages and from all backgrounds to join us. Whether you're seeking volunteer abroad programs for college students or voluntary work for over 60s, as a trusted non-profit organization which prioritizes the safety of our volunteers, we are the go-to for volunteers across the globe. We also offer customized programs with flexible arrival dates to best suit the needs of the remarkable volunteers we depend on to help us make the world a better place.
If you'd like to volunteer, Costa Rica is just one of the countries we've taken under our wing, supplying a steady flow of volunteers and providing year-round financial support to local projects in San Jose, Escazu, Pacific & Caribbean areas. Wherever you decide to volunteer, A Broader View give you the opportunity to participate in meaningful community service work, learn a foreign language, make lifelong friends and discover that one person really can make a difference. Your search for the best volunteer abroad programs ends here – volunteer in Costa Rica with us and gain A Broader View of the world.
Coordinator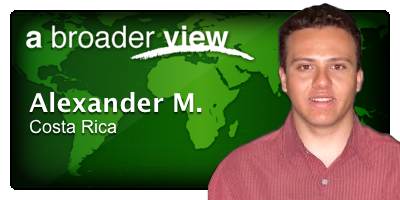 Welcome to Costa Rica (Bienvenido (a) a Costa Rica 🇨🇷 ). Our names are Jenny, Alexander and Jesus and are your ABV coordinators while you are staying in Costa Rica. Our country has one big city, San Jose. But you will be working in Escazu, San Jose, Pacific ir Caribbean area. We will be ready for support 24/7 in case you need to contact me urgently. We will introduce you to your volunteer location and staff.
You are most welcome to seek my assistance and don't hesitate to ask me questions while in country.
Weather
Because Costa Rica is located between nine to ten degrees north of the Equator, the climate is tropical year round. However, the country has many micro-climates depending on elevation, rainfall, topography, and by the geography of each particular region.
What's the best time to go to San José in Costa Rica? Here are some annual weather facts we collected from our historical climate data:
On average, the temperatures are always high.
A lot of rain (rainy season) falls in the months of: May, June, July, August, September, October and November.
San José has dry periods in January, February and March.
On average, the warmest month is March.
On average, the coolest month is September.
September is the wettest month. This month should be avoided if you don't like too much rain.
January is the driest month.

City: San Jose | Population: 4.805 million | Languages: Spanish
Currency: Costa Rican Colón (CRC) | Time zone: UTC−06:00
Volunteer in Escazu
Reviews & Multimedia
Reviews
I had a fantastic experience all the way around with ABV. From the time I inquired about their programs, to almost the day before I left to come to Costa Rica, ABV was continually in touch with me making sure everything was arranged, taken care of, answered any questions I had.
I was lucky enough to volunteer at a hospital where I would help care for the babies or kids whose parents could not always be with them. There are not enough nurses to care for all of the kids and the parents need to eat or sleep at some point and that is where the rest of the volunteers.
Volunteer Costa Rica: From beginning to end though, you are taken care of. Someone picks you up from the airport, our host was always there for us and very helpful, and we were only ever on our own on the weekends when we decided to do excursions, which was our own choice.
Prices for Costa Rica
Program Fees
Since A Broader View Volunteers is a 501c(3) charitable organization, You can fundraise (optional) for the expenses of the trip after you get confirmed in our programs. Prices are per person and in US dollars (US$).
| Length of program | Program Fee $USD |
| --- | --- |
| 1 week | $910 |
| 2 weeks | $1025 |
| 3 weeks | $1240 |
| 4 weeks | $1355 |
| 5 weeks | $1470 |
| 6 weeks | $1580 |
Special Programs
Inclusions
Accommodation: Host Families.
Meals: Breakfast, lunch and dinner are included.
Arrival: Airport (SJO) meet and greet by ABV Staff
Orientation: Orientation upon arrival.
Support: Full time in-country ABV Coordinator. 24/7 emergency contact number.
Departure: ABV Staff Escorted Airport Transfer
Extra costs: Flights. Entry Visa. Departure taxes. Vaccinations. Local Transportation. Travel & Health Insurance (US$53 approx). Internet & Laundry optional: only available in some host families: US$10 a week). Any extra activities and excursions or tours not described on the planned itinerary. US$50 donation paid over the total fee.
Meals & Food
Volunteers are provided breakfast, lunch and dinner at their accommodation 7 days a week  (each specific program will have a description otherwise if it has a different plan for meals). Breakfast typically consists of toast, fruit, eggs, rice and beans accompanied with tea or coffee. Dinner usually includes: meat (cow, chicken), potato, rice, vegetables and Gallo Pinto, is the national dish of Costa Rica consisting of rice and beans. Gallo Pinto is served with almost every meal. Lunches are provided in San Jose, Escazu and sea turtle programs, volunteers are usually away from their accommodation mid-day. We recommend budgeting between US$5 and US$10 per day to purchase lunch if you don't return to the host family, let them know you have other plans. Sea Turtle Conservation volunteers are provided with lunch given the rural settings of these projects. If you have specific dietary requirements, our local teams and home-stays can customize to you but be flexible as well.
Start Dates
Most of our programs run year round, you can start any volunteer/internship program on any day. When you apply you will lets know your start and end dates. Our programs run year round and have volunteers arriving almost every day from many different countries.
Since our programs sometimes depend on the local holiday calendar, there are brief occasions when normal programs work is suspended. For example, schools/daycares often close for long winter/summer vacations. During these times, we arrange for alternative work programs that are similar in substance to our ongoing programs, but address the short-term, direct needs of the local communities.
If you would like to arrange your start and end dates around the local holidays, please call us at 1.866.423.3258 or email us at [email protected].
Money Matters
A Broader View Volunteers work tirelessly year round to support our volunteers, and also to serve the local communities where ABV projects are based. As a tax-exempt 501 c(3) organization A Broader View receive 100% of our funding from volunteer contributions. Through your program fee contribution our non-profit charity organization can operate beneficial humanitarian aid programs which are successful and continuous supported year round.
Local, professional full-time coordinators, placement logistics, airport pick up and departure transportation, arrival orientation, food & local accommodations, are a major part of providing a safe, meaningful volunteer experience. When you join A Broader View, you will receive pre-trip visa and vaccination support, assistance with flights, fundraising planning, through our interactive online volunteer portal. Our local partners not only benefit from volunteers valuable contributions at the project, they benefit financially with year-round monetary support from A Broader View. In the last decade A Broader View has donated over 4.5 million dollars in international aid.
By joining A Broader View you are not only helping to make a difference during your own trip, your impact will last even after you go home.
Extras
Tour and weekend trips
Once in country our local coordinator can help you find the most reliable and safe tour agencies for weekend trips, you can pay in cash or in most locations with a credit card. These tours are not part of the ABV fees.
Arenal Volcano and Tabacón Hot Springs Day Trip from San Jose
Find your bliss with a classic Costa Rican experience that combines a seismic dose of adventure and relaxation! On this full-day trip from San Jose, visit the very active Arenal Volcano and explore its base with a guided nature hike. Then, unwind with a soak in a variety of geothermal pools at the luxurious Tabacón hot springs. The tour also includes a stop at the artisan town of Sarchí, plus delicious lunch and dinner.
Manuel Antonio National Park Day Trip from San Jose
Discover one of the most beautiful beaches in Costa Rica on this full-day trip from San Jose to Manuel Antonio National Park. After a scenic drive along the Pacific coast, you'll arrive at this protected reserve that features lush tropical rain forest and unspoiled stretches of white sandy beach. Relax on the shore or explore the jungle with a guided nature hike, where you'll have a chance to spot birds, sloths, monkeys and other resident wildlife.
Tortuga Island Day Trip from San Jose
Sail to Tortuga Island aboard a catamaran for on this 12-hour day trip from San Jose. Go swimming and snorkeling, then refuel with a 4-course gourmet lunch. Use of all equipment is included, as is round-trip transportation from your hotel and a hot breakfast before departure.
Sarapiqui River Sightseeing Cruise and Zipline Canopy Tour from San Jose
Delve deep into the Costa Rican rain forest with his full-day tour to Puerto Viejo de Sarapiquí. Take in views of lush tropical landscape and native wildlife during a leisurely riverboat cruise, and then experienced the thrill of swinging through the jungle canopy on a series of treetop ziplines. This action-packed day includes a traditional Costa Rican lunch and round-trip transport from your San Jose hotel.
Whitewater Rafting on the Pacuare River in Costa Rica
Test your paddling skills on this thrilling whitewater rafting trip along Costa Rica's gorgeous Pacuare River. An experienced guide will help you navigate the Class III and IV rapids that rush through the delightfully lush scenery of the rain forest. No experience is required — just bring your sense of adventure and prepare to get wet on this full-day trip form San Jose! Round-trip hotel transport and a hearty breakfast and lunch are included.
San Jose Dinner, Live Music, and Traditional Dance
Enjoy a festive evening of traditional Costa Rican dance and scrumptious dinner. Admire panoramic views of the Central Valley and the glittering lights of San Jose from a renowned hilltop restaurant. Savor a buffet dinner of authentic Costa Rican cuisine and watch dancers in traditional costume perform to live music. A celebratory fireworks show will cap off an unforgettable night.
Cinco Ceibas Rainforest Reserve and Adventure Park from San Jose
Support sustainable tourism with this eco-adventure to the Cinco Ceibas Rainforest Reserve and Adventure Park. On this full-day trip from San Jose, get an up-close peek at toucans, bats, red-eyed frogs and howler monkeys with a trek across an elevated jungle boardwalk. Create your own adventure with the choice of kayaking down the Rio Cuarto, horseback riding along a river trail or a exploring the reserve in an ox-pulled wagon. A locally sourced lunch, snacks and round-trip transport from San Jose are included.
Festivals and Festivities
January

New Year's Day—Revelers who were partying in the clubs the night before gather in San José's Parque Central and Buenos Aires, and Puntarenas to continue the festivities at dances.
"Summer" School Holidays—The long public school vacations in Costa Rica run from the middle of the second week in December through the beginning of the second week in February.  Expect families on vacation and bigger crowds at the beach.  Exact dates can be found on the Ministerio de Educación Pública calendar.
Fiesta Palmares —Traditional (no bloodshed) bullfights, live music, folk dancing, carnival with rides and games take place the first two week of the year in Palmares.  Check their facebook page for the latest schedule and musical guests
Fiesta Santa Cruz—The fiesta in Santa Cruz on the Nicoya peninsula takes place the second week in January and has a western flair with bullfights and a parade followed by a party with food, concerts and fireworks.
Día de Santo Cristo de Esquipulas—Popular religious festival celebrated with fiestas and dancing in Alajuelita, Dulce Nombre and Santa Cruz. Alajuelita also includes an ox-cart parade and procession to the iron cross on the mountain above the village where a blessing is given.
February
Fiesta de los Diablitos—The festival of the little devils takes place in the second half of February. An indigenous celebration wrapped around a re-enactment of a battle between the toro (Spanish troops) and the diablitos (Boruca Indians). Striking hand carved masks and traditional costumes decorate participants and food and fireworks complete the scene in Rey Curre south of San Isidro de El General.
"Summer" School Holidays—The long public school vacations in Costa Rica run from the middle of the second week in December through the beginning of the second week in February.  Expect families on vacation and bigger crowds at the beach.  Exact dates can be found on the Ministerio de Educación Pública calendar.
Nicoya Rodeo & Fiesta Patronal—One of the best on the peninsula or anywhere in Guanacaste.  Rodeo, tope, toro a la Tica (bullfights without the bloodshed), street fairs, traditional food booths, fireworks and music.  Usually the beginning of February but check their facebook page for updates.
Ash Wednesday— Fasting and repentance.
Carnival and Festival del Mar—A week of local celebrations in Puntarenas and Quepos including street fairs and fiestas, dancing, a beauty contest, live music and sporting events.  Check their facebook page for the latest on schedule and who's appearing at the concerts
Envision—Feb 23 – 26 in 2017 Envision Music, Art and Sacred Movement Festival featuring live concerts, yoga, trapeze and lots of communing on the beach for conscious people from around the globe.
Día de los Boyeros—Oxcart driver's day takes place on the second Sunday in March. A parade of beautifully handmade and painted oxcarts and driving competitions are surrounded by traditional costumes, food and dancing in San Antonio de Escazú. One of the most colorful celebrations and a real photo opportunity.
Jungle Jam—Jacó Music festival falls on March 10-12 in 2017
Día de San José—Saint Joseph is the patron saint of the capital city San José, and the day is recognized nationwide by Catholics with special masses (especially in the many other towns and communities named San José). It is an official business, bank and school holiday in the capital.
April
Semana Santa—Holy week is observed with religious processions and masses. The official holiday falls on the Thursday and Friday before Easter Sunday.  Public transportation does not run on these two days and is extremely crowded the whole week.  All alcohol sales are prohibited Thurs.- Sun. Many businesses extend the holiday to the entire week.
Fiesta San Vincente de Moravia—Street fair with music, dancing, traditional food and toro a la Tica (bullfights without the bloodshed)
Easter—Family and religious observations
Día de Juan Santamaría—National holiday honoring a young fighter from Alajuela who defended his country to the death against William Walkers forces at the battle of Rivas in 1856.
Parades, marching bands, dances and other celebrations extend through the week concentrated in Alajuela.
Fiesta San Rafael de Sata Ana—Street fair with music, dancing, traditional food and toro a la Tica (bullfights without the bloodshed)
Fiesta Tarrazu—Street fair with music, dancing, traditional food and toro a la Tica (bullfights without the bloodshed)
May
Día de los Trabajadores—Labor Day. Parades, marches and the Presidential "state of the union" address to Congress and the people. Cricket matches are a highlight in Puerto Limón.
Fiesta Pattronale Desamparados—Street fair with music, dancing, traditional food and toro a la Tica (bullfights without the bloodshed)
Día de San Isidro Labrador—Escazú and San Isidros all over Costa Rica hold street fairs and parades with music, dancing, traditional food, honoring the patron saint of farmers with blessings of animals and crops.
Fiestas Pattronales San Marcos de Tarrazu, and Coronado—Street fair with music, dancing, traditional food and toro a la Tica (bullfights without the bloodshed)
June
Fiestas Pattronales Trinidad de Moravia, San Pedro de Montes de Oca, Leon Cortes, and San Jeronimo—Street fair with music, dancing, traditional food and toro a la Tica (bullfights without the bloodshed)
Día de los Padres—Father's day
Fiesta San Juan de Tibas—Street fair with music, dancing, traditional food and toro a la Tica (bullfights without the bloodshed)
Día de San Pedro y San Pablo—Saint Peter and Saint Paul's day marked by processions and masses.
July
Fiesta de La Virgen del Mar—The Fiesta of the Virgin of the Sea on the Saturday closest to the 16th is marked in Puntarenas by a procession of decorated fishing boats carrying a statue of La Virgen del Monte Carmelo (the city's patron saint) and a special mass. The secular celebrations include a week of parades, dances, regattas, parades and fireworks. Playas del Coco also celebrates the Virgin of the Sea.
Día de Guanacaste—Guanacaste Day celebrates the annexation of Guancaste from Nicaragua in 1824. Street fiestas, folk dancing, topes (horse show/parade), traditional bullfights, rodeos and cattle shows are particularly colorful and exuberant in the eponymous northwest region of Guanacaste and the Nicoya peninsula.
Winter School Holiday—The "Winter" break for public schools is Typically the first two weeks in July.  Exact dates can be found on the Ministerio de Educación Pública calendar.
August
Virgen de Los Angeles—National holiday celebrating the patron saint of Costa Rica, La Negrita. Special masses and a religious procession from San José to La Basilica de Cartago. Pilgrims come from all over the country, many on foot to celebrate the mass at Cartago.
Fiesta Ciudad Colon (San Carlos)—Street fair with music, dancing, traditional food and toro a la Tica (bullfights without the bloodshed)
Día de la Madre, Feast of the Assumption—Mother's day is a national bank, school and business holiday in Costa Rica
Fiesta Pattronale Aserri—Street fair with music, dancing, traditional food and toro a la Tica (bullfights without the bloodshed)
National Parks Day—Special events in the major National Parks around Costa Rica
September
Independence Day—Costa Rica gained independence from Spain on the same day as the rest of Central America in 1821. The nationwide celebration starts with parades, traditional dancers, and street parties and culminates with the arrival of the Freedom Torch in Cartago (delivered from Nicaragua by relay runners) when everyone in the country stops and simultaneously sings the national anthem. Children later enjoy faroles parades where they carry small lanterns through their towns.
October

Fiesta Patronale San Francisco de Dos Ríos—Street fair with music, dancing, traditional food and toro a la Tica (bullfights without the bloodshed)
Founding Day—A week of local celebrations in San Isidro de El General including street fairs and fiestas, dancing and sporting events culminates in the fiesta marking the founding of the town.
Carnival—Shades of Río on the streets of Límon on the Caribbean coast.  This celebration of Columbus' arrival in the new world culminates on the twelfth (Columbus day).
Fiesta Pattronale Escazú—Street fair with music, dancing, traditional food and toro a la Tica (bullfights without the bloodshed)
Halloween—Relatively new to Costa Rica but gaining popularity rapidly as the youngsters pick up on the concept of trick-or-treat
November
Día de los Muertos—All Soul's Day is observed across Costa Rica with Catholic masses and pilgrimages to graveyards.
Coffee Picking Contests—Local communities throughout the Meseta Central and mountains sponsor coffee picking contests in November.
El Desfile de Carretas—One of the largest parades of ox-carts (the other is the Día de los Boyeros the second week in March) takes place in San José the last week in November.
December
"Summer" School Holidays—The long public school vacations in Costa Rica run from the middle of the second week in December through the beginning of the second week in February.  Expect families on vacation and bigger crowds at the beach.  Exact dates can be found on the Ministerio de Educación Pública calendar.
Festival de la Luz—San José's week long festival of lights is marked by lighting displays and concerts and fireworks after dark in the park.
Fiesta Pattronale Pavas—Street fair with music, dancing, traditional food and toro a la Tica (bullfights without the bloodshed)
Immaculate conception, Fiesta de los Negritos—Formerly a national holiday now celebrated with religious processions, masses, and costumed dancing
Fiesta de la Yeguita—Bullfights and a parade followed by a party in the parque central of Nicoya with food, concerts and fireworks.
Misa de Gallo—Christmas eve midnight mass. (Literally, Mass of the Rooster.)
Christmas Week—Although not an official holiday the week preceding Christmas is so commonly observed that it might as well be. A very popular time for Ticos to head to the beach.
Christmas Day—Family gatherings and Christmas mass
Fiesta de Zapote — starting Christmas day Los Festejos Populares de Zapote (eastern San José suburb) with carnival rides, street vendors and corridas de toros a la tica (Costa Rican style bullfights) more info on wikipedia
Tope Caballos—A horse parade on the 26th of December through downtown San José proudly displays the equine traditions and unique Criollo breed.