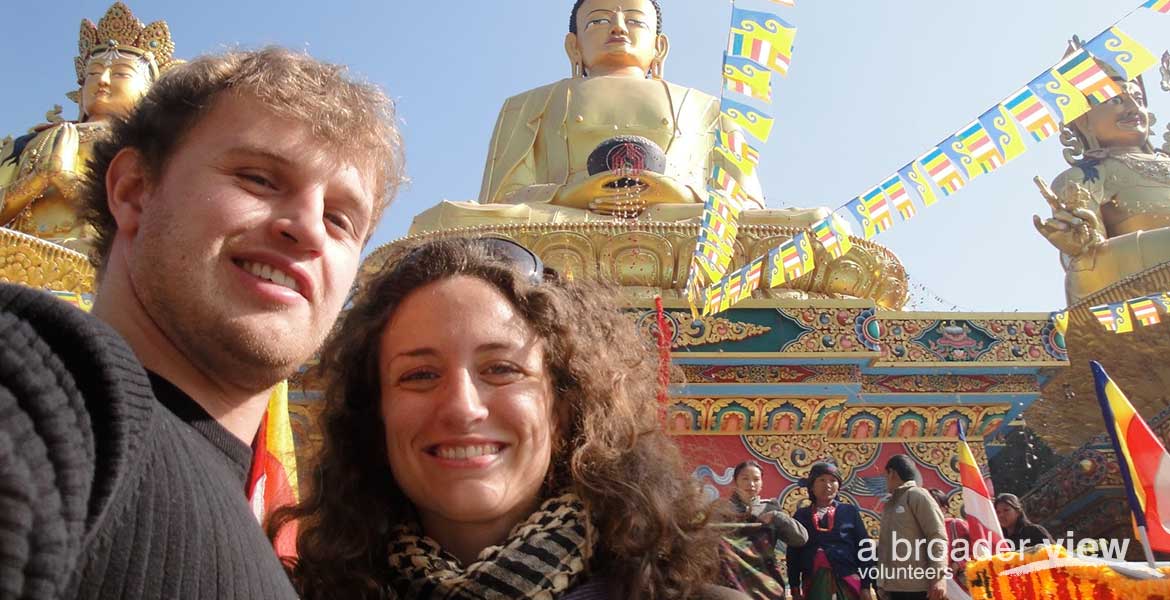 Kathmandu is a captivating place. It is the capital and largest city of Nepal, and offers visitors a mix of the modern life and ancient culture. A visit to Kathmandu is like stepping back into the 12th century. Parts of this bustling city are very crowded and run down, and other areas are architecturally stunning and home to numerous notable Hindi and Buddhist temples, monkeys, and ancient buildings.
Nepal's acronym of Never Ending Peace And Love, does well to characterize this nation of good natured and accommodating people. Kathmandu has many attractions, but the essence of the country is its smiling, friendly people with their heartfelt palm-pressed greetings.
With a stunning backdrop of the tallest mountain peaks in the world, warm hospitable people and old world charm, Kathmandu is a exciting place to visit and volunteer. Take a step back in time, volunteer in Nepal.
Volunteer Opportunities: Social programs
Overview
Project Length: From 1 week to 12 weeks
Arrival Airport: Kathmandu (Code: KTM)
Work Schedule: Monday to Friday 6-8 hours per day
Requirements: Tourist Visa
Age Limits: Minimum 17yrs or older for solo travelers.
Minimum Age: 12 to 16 yrs if traveling with parents
Airlines: Qatar, Air India, Jet Airways, Thai Air, Ethiad
Vaccinations: Typhoid and Hep A wwwnc.cdc.gov
Inclusions
Accommodation: Host family/Shared House
Meals: 2 Meals a day
Arrival: Airport meet and greet by ABV Staff
Orientation: Project Overview andOrientation
Support: Pre-trip written guide, In-country ABV staff available 24/7
Departure: ABV Staff Escorted Airport Transfer
Not included:
Flights to Nepal. Entry Visa. Departure taxes. Vaccinations. Local Transportation. Travel & Health Insurance. Laundry and Internet
Asia
Weeks
1
2
3
4
5
6
7
8
9
10
11
12
Nepal
890
1030
1170
1310
1450
1590
1730
1870
2010
2150
2290
2430
A Broader View Volunteer (ABV)  allows every traveler to choose their own program start date. This means you can arrive on any flight, any day of the week. Since ABV program fees are 100% tax deductible* we encourage you to fund raise. ABV offers advice and assistance with flight planning, affordable travel insurance, as well as procuring a visa, if necessary. Our ABV staff is available to any your questions. Contact us by email, through the on-line chat feature on our website or call us toll free at 866-423-3258.
WHAT DO MY FEES PAY FOR?
Volunteer Registration Fee – ongoing support from ABV staff, program marketing costs, information pack, administration costs, ABV donation Fund, travel costs to inspect programs and communication costs with volunteers.
Volunteer Program Fee – ABV donation fund, airport pick-up, orientation, program supervision, accommodation and meals during volunteer program period, in-country 24/7 volunteer support and in-country administration costs. As a US Non-Profit Charity Organization all your fees are tax deductible and you can fundraise from our website to pay for the fees.